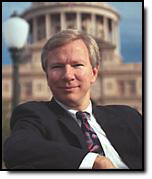 Edward P. Watt
Introduction
As an undergraduate student at the main campus of the University of Houston, Ed was elected president of the student body. In law school, Ed won the Houston Law Review's writing competition and took first place (with a partner) in the school's International Mock Trial competition. He was then selected Editor-in-Chief of the Houston Law Review by the outgoing editorial board. At graduation, he was honored with the faculty's Distinguished Student Award. The combination of leadership, writing ability, oral communication skills, and analytical ability that led to these awards has served Ed and his clients well over the years he has practiced as a trial lawyer.
Ed began his law practice in 1983 in the Houston office of Liddell, Sapp, Zivley, Hill & LaBoon (n/k/a Locke, Lord). In 1987, the firm moved him to its Austin office to head up their new litigation section until a local attorney could be hired for the job. What was supposed to be a temporary assignment stretched to a year. Ed fell in love with the Austin hill country area and jumped at the firm's offer to make the move permanent. He left that firm in 1990 with seven others to start Burk & Watt, P.C. Later, in 1992, he founded Watt Law Firm. Approximately 95% of Ed's legal work has been in the area of complex commercial litigation. Ed's caseload has included cases throughout Texas, both in state and federal court, as well as cases in Arkansas, Maine, Massachusetts, Oklahoma, California and Nevada.
Ed has been awarded Martindale Hubbell's prestigious AV rating, which recognizes him as having reached the "height of professional excellence" and having the "highest levels of skill and integrity."
Areas of Practice
General civil and commercial litigation, including real estate litigation, securities disputes, bad faith insurance claims, lender liability, RICO claims, deceptive trade practices act claims, ERISA, oil and gas matters, partnership agreements/contract disputes, and legal and accounting malpractice. He has represented both plaintiffs and defendants, ranging from individuals to multi-national corporations.
Admissions to Bar
Texas, 1983; U. S. District Court, Southern and Western Districts of Texas; U. S. Court of Appeals, Fifth Circuit; U. S. Court of Appeals, First Circuit; and U. S. Claims Court. He has also been admitted for specific cases to practice in the courts of Arkansas, Maine, Nevada, California and Oklahoma. Ed has also appeared before the High Court of England in a case involving international finance, special treaties, and the legal and banking systems of the U.S., England and Germany.
Education
University of Houston (B.S. with highest honors, 1980; J.D., with honors, 1983); Phi Delta Phi; Omicron Delta Kappa; Order of the Barons; Editor-in-Chief: Houston Law Review, 1982-83; Texas Rules of Evidence Handbook, 1983. During his undergraduate years at the University of Houston, Ed served as President of the Student Body and was a member of over 20 campus governance committees, including committees that selected the President of the University System, the Provost, and the Athletic Director. He served as Vice-President of the Alumni Organization in 1981-82. During law school he was not only Editor-in-Chief of the Law Review, he also won the school's Mock Trial competition, was instrumental in creating the Law Review foundation, and was awarded the Distinguished Student Award by the Law School faculty.
Memberships (Past and Present)
State Bar of Texas; the Association of Trial Lawyers of America; Travis County Bar Association; Hays County Bar Association; Texas Association of Trial Lawyers; Christian Legal Society.
Personal
Ed is married and the father of four beautiful children, ages 22, 20, 17 and 14. He was born in Rochester, New York on October 4, 1956, but has lived virtually all of his 58 years in Texas. He has also been very active in his church, serving in a number of capacities, including Chairman of the Missions Committee for 5 years.
Contact Ed:  edwatt@wattlaw.com